Linda Zern
Biography
On Tuesdays and Thursdays, I am a serious writer of serious literature full of serious themes, ideas, and symbols--also big words. On Wednesdays and Fridays, I tend to write seriously about lighter subjects. Having written a children's chapter book and written and illustrated an inspirational picture book, I am exploring the potential of e-pulishing. I am currently attending Rollins College in Winter Park, Florida, where my professors encourage me to write seriously about serious and important ideas--also exploding coffins. They call my writing style "lively," which I suspect is another word for daffy.
Where to find Linda Zern online
Books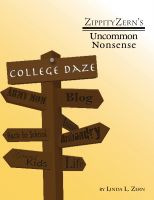 ZippityZern's Uncommon Nonsense - College Daze
by

Linda Zern
In the third installment of the ongoing ZippityZern collection, Ms. Zern offers up a book about going back to college--and at her age no less. The collection is stuffed full of what's she noticed, assimilated, studied, and been exposed to while learning how to use imaginary numbers to count unicorns.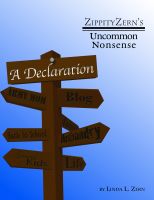 ZippityZern's Uncommon Nonsense - A Declaration
by

Linda Zern
In book two of Linda L. Zern's series "ZippityZern's Uncommon Nonsense" better known as "the blue book," the author continues to observe, deduce, and comment on life and living. Topics include the proper way to freak out over discovering porn in a teenage boy's room, teaching the young and impressionable the fine art of toilet plunging, and the proper use of paranoia as a parenting tool.
ZippityZern's Uncommon Nonsense - A Farmer's Almanac
by

Linda Zern
There are personal essays. There are creative non-fiction essays which are essays dressed up to go to a party, and then there are ZippityZern's essays, and that's a whole other kind of not-faux story dressed up to go to a party. Subjects covered in the Almanac include: gelding sheath cleaning and feral chicken trouble.
Linda Zern's tag cloud