Judit Gellerd
Biography
Judit Gellérd, M.D., grew up in Transylvania as a daughter of a Hungarian minister-scholar, martyred by the communist witch hunt during the Ceausescu regime. She graduated first from music conservatory as a violinist, then from medical school. She specialized in neurology and psychiatry and practiced medicine in Transylvania and Budapest, Hungary for twenty years. She married California professor George M. Williams and moved to the United States in 1988. Judit and George created and led a international movement, the Unitarian Universalist Partner Church program. The Starr King School for the Ministry in Berkeley, California, awarded her an honorary doctorate in 1994. In 2002 she graduated summa cum laude from Boston University School of Theology and was ordained by the Transylvanian Unitarian Church. She studied with Nobel Peace laureate professor Elie Wiesel, and with his encouragement she wrote Prisoner of Liberté, both in English and Hungarian. As a member of the faculty for Semester at Sea, she sailed around the world twice. Her recently published Hungarian literary travelogue, Ahol leoldom saruimat, has been highly acclaimed. She is a bilingual translator of scholarly works of theology and history. In 2009, the Hungarian Academy of Sciences named a work published by University of Strasbourg in her English translation their Book of the Year.
Where to find Judit Gellerd online
Books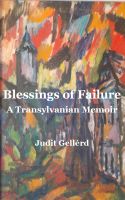 Blessings of Failure: A Transylvanian Memoir
by

Judit Gellerd
(5.00)
A memoir of a Transylvanian physician, a child of communism where failure was guaranteed. In a stubborn pursuit of realizing her parents' failed ideals, she keeps changing careers and countries. She excels in three professions, only to lose each as her inner quest drives her toward an ever-changing vision of becoming. Paradoxically, her freedoms and successes have come from failures.
Judit Gellerd's tag cloud