Sub-categories:
General | Horseracing | Polo | All sub-categories >>
Driving | General | Horseracing | Polo | Riding | Training | << Top sub-categories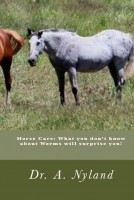 Horse Care: What you don't know about Worms will surprise you!
by

Dr A. Nyland
(5.00 from 1 review)
A clear, easy guide to horse worms and dewormers. Written in easy language for the layperson, yet heavily referenced to scientific academic journals. Today's problem worm is the small strongyle yet the majority of advice given for deworming horses is still aimed at eradicating the large strongyle. When to deworm, resistance, rotational deworming, harrowing, are all covered in this book.