Sample Guide
SampleGuide is based on an extended research for Product Samples, coupons and Gift Cards that you can receive abstolutely free. The Products Samples, Coupons and Gift Cards listed in SampleGuide, are offered by the biggest and most trustworthy companies out there, and you can be at ease that you can use all the offers, and receive all the products.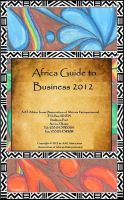 Africa - Guide to Business 2012
The countries of the african continent offer a wide range of opportunities for the entrepeneur. This book outlines those opportunities on a country by country basis and provides an indication of some of the challenges (and their solutions)that may be faced. The book also provides a simple guide to the steps (paperwork) required to establish a business presence in each of the countries covered.