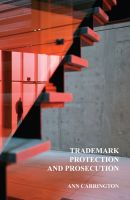 Trademark Protection and Prosecution
by

Ann Carrington
A comprehensive book on trademarks, including sample agreements, forms and checklists, such as: trademark ownership and license agreements, assignment of service marks and trademarks, infringement complaint and demand letters, company logo spec sheets, FBNS checklist, USPTO trademark application forms, name searches, process flowcharts, post-registration timelines, and much more.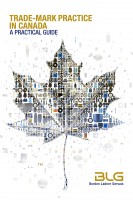 Trade-mark Practice in Canada: A Practical Guide
by

Borden Ladner Gervais LLP
This book provides a practical overview of Canadian trade-mark practice. Guidance is provided on requirements for filing trade-mark applications. Other topics covered include certification marks, distinguishing guises, and domain names, as well as adversarial or contentious proceedings such as oppositions, cancellation, passing off, and infringement, and a discussion of relevant case law.