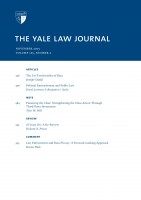 Yale Law Journal: Volume 125, Number 2 - November 2015
by

Yale Law Journal
Contents of Nov. 2015 issue: Articles: "The Un-Territoriality of Data," by Jennifer Daskal; "Political Entrenchment and Public Law," by Daryl Levinson & Benjamin Sachs; Review: "18 Years On: A Re-Review," by Richard A. Posner; Note: "Financing the Class: Strengthening the Class Action Through Third-Party Investment," by Tyler Hill; and a Comment on law enforcement and data privacy by Reema Shah.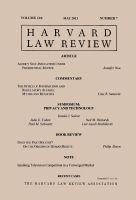 Harvard Law Review: Volume 126, Number 7 - May 2013
by

Harvard Law Review
Harvard Law Review's May 2013 No. 7 features articles by Jennifer Nou & Cass Sunstein on administrative agencies and regulation; a Privacy symposium authored by Daniel Solove, Neil Richards, Paul Schwartz, & Lior Jacob Strahilevitz; and a book review on civil rights lawyers by Philip Alston; plus extensive student work. The issue serves, in part, as a new monograph on privacy, among other topics.