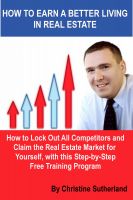 How to Earn a Better Living in Real Estate
This is not a book which tells real estate agents how to do their job - there is plenty of training available which already does that. This book has a laser focus on showing agents how to use very different and easy strategies to get many more referrals, and many more listings, in a way that eliminates competition, no matter how entrenched they may be in the market. Free online and live support.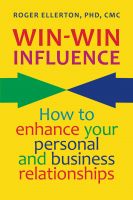 Win-Win Influence: How to Enhance Your Personal and Business Relationships (with NLP)
Whether you are a parent, son/daughter, friend, employee, manager or salesperson, you are constantly influencing others to accept you, your ideas, products or services. Those who masterfully present themselves and their ideas in a win-win manner, get ahead. Those who do not, may reap short-term gains and eventually fail in their objective. Make a difference in how you interact with others.