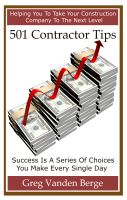 501 Contractor Tips
by

Greg Vanden Berge
This book is full of my personal successes and failures as a contractor and construction worker. It's been a long journey and I'm sure there's more lessons to learn in the future. I'm sharing some of the ones I've already experienced, in hopes that you will learn to profit from them.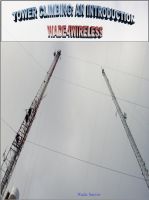 Tower Climbing: An Introduction
by

Wade Sarver
Thinking of becoming a Tower Climber? Get the book where you will learn about the job and the tools you will use. You will learn about the tools, paperwork, and expectations of becoming a certified climber.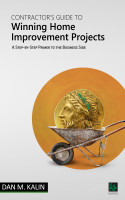 Contractor's Guide to Winning Home Improvement Projects
by

Dan Kalin
A concise guide to the business aspects of home improvement contracting. Covers the topics of marketing, branding, proposals/bids, contracts, collections, lawsuits, and online reputation management. Filled with "what to do" and "what not to do" examples, written in easy to understand language for the business novice. Answers the question, "Why am I not winning my fair share of bids?"