Sub-categories:
General | Undead | Weird fiction | Occult | Ghost | Crime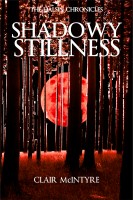 Shadowy Stillness
by

Clair McIntyre
Price:
$3.99 USD.
Words: 113,770. Language: English. Published: October 2, 2014. Categories:
Fiction
»
Horror
»
Occult
How far would you go to save yourself from a madman? For Meri Halsin, she would go to ends of the Earth to save herself from the madman who has been killing her family for years. Lucky for Meri, she needs to find an ancient immortal warrior named Felix Moregan, but there is another ancient evil at work who will do anything to keep the two of them from ever meeting.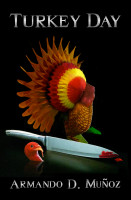 Turkey Day
by

Armando D. Muñoz
Price:
$4.99 USD.
Words: 118,110. Language: American English. Published: November 21, 2016. Categories:
Fiction
»
Horror
»
General
(5.00 from 1 review)
On Thanksgiving morning, Kelly and her wife Angela return to Kelly's rural childhood home for a family reunion. Not everyone welcomes them to the feast; like the country, they are a family divided. Also in attendance is a secret guest in an intricate turkey costume, somebody who hollows out humans and decorates with their insides. Can Kelly and Angela survive until Thanksgiving dinner?