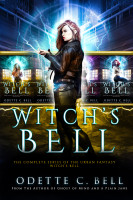 An urban fantasy with everything from romance to mystery, The Witch's Bell Series follow a feisty witch, Ebony Bell, as she solves magical malady after magical malady.

Ebony Bell is living just exactly the life she wants. She has her very own magical bookstore, a wardrobe full of fabulously glitzy clothes, and a sweet bowl just brimming with lollies. But when a 6ft-tall annoyance by the name of Detective Nathan Wall walks through her shop door, her sweet life turns to ruin. As witch consultant for the local police department, Ebony has to work infuriatingly close with the man. And if that wasn't the worst thing that could happen, she slowly finds out that an ancient, thoroughly powerful entity might just be out to curse her.

Very soon she finds herself ditching the ruby-red heels, dashing across rooftops, breaking and entering, and stuffing whole bookstores into bags. Oh, and possibly kissing annoying detectives.