Videos
Desert Intrigue: The Adventures of John and Julia Evans
Mystery…Adventure...Romance...Humor...Intrigue!
About the Series: The Adventures of John and Julia Evans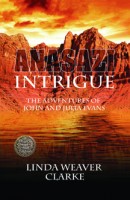 The Adventures of John and Julia Evans is a mystery/suspense series. In this series Julia is a reporter for a daily newspaper and her husband John is a professional knife maker. Because of her curiosity, Julia gets herself into a bunch of trouble. Before long, she finds herself and her husband up to their necks in danger and running for their lives.

The Evans also have three college age daughters, which add a little spice to their life. In this series, you learn about artifact theft, the Mayan ruins, Montezuma's treasure, and Superstition Mountain. The series includes: Anasazi Intrigue, Mayan Intrigue, Montezuma Intrigue, and Desert Intrigue.
Reviews
Review by: Amarissa Ainsworth on Oct. 16, 2012 :
What a charming story! There was just enough romance mixed into the mystery to give it a unique feel. It was wonderful the way the author blended historical facts with fiction! The main characters were so easy to like, too. It is story full of humor and just had you smiling all the way through!
(reviewed 55 days after purchase)
Review by: Amarissa Ainsworth on Oct. 16, 2012 : (no rating)
What a charming story! There was just enough romance mixed into the mystery to give it a unique feel. It was wonderful the way the author blended historical facts with fiction! The main characters were so easy to like, too. It is story full of humor and just had you smiling all the way through!
(reviewed 55 days after purchase)
Review by: Becky Isaac on Aug. 14, 2012 :
This is "Nancy Drew" all grown up. If you liked the Nancy Drew books as a child, you will love the books about the adventures of John and Julia Evans as an adult. This is one of a series of fun books written by Linda Weaver Clarke featuring Julia Evans along with her husband John and her family.

This particular book follows Julia and her family as they investigate some unusual events taking place at the dude ranch Julia's brother, Kelly, owns. The ranch is near the legendary Lost Dutchman Mine in the Superstition Mountains of Arizona. So many unexplained things have started happening at the ranch that customers are cancelling their reservations, employees have left and people are scared. Kelly is in danger of losing the ranch, the property that has been in their family for generations. It seems like the legends of bad luck associated with the mine are true, or are they?

Julia wants to get to the bottom of all this, but will she survive when accidents start happening to her? The story has lots of twists, turns and adventure. This is a family friendly story that is lots of fun to read.

I enjoyed this book and would recommend it.

The author has provided me with a copy of this book. All opinions expressed are my own, and I have not been compensated in any other manner. Despite my receiving the book free, it has not influenced my judgment, and I have given an honest opinion.
(reviewed 22 days after purchase)
Review by: Charissa Stastny on July 11, 2012 :
Fun, novel set in Arizona near Superstition Mountain. Kelly Evan's dude ranch is going under due to mysterious happenings related to the Thunder God and the cursed Apache gold that is claimed to be hidden near there. His sister and her husband come to help him figure out who is behind the destructive internet advertising and scary occurrences at the ranch, and the plot takes several twists and turns as you try to figure out who the 'bad guy' is. The ending will surprise you. It did me. This book was not my favorite writing style, but the mystery was great and the story had several subplots going on that were intriguing and kept my attention.
(reviewed 5 days after purchase)
Review by: Yvonne Hering on May 11, 2012 :
Julia Evans' brother, Kelly, inherits the family property in Arizona and opens a dude ranch. He does quite well with it, but suddenly, things take a turn for the worst and mysterious things happen. The guests believe the ranch is haunted and business takes a huge nosedive. Julia, her husband and their twin daughters take a trip to Arizona to help out, but it's not as easy as they thought it would be.

The mysterious incidents become downright dangerous, especially when Julia's life becomes the target. All signs point to someone on Kelly's ranch being the culprit. A possibility that tears Kelly apart since he trusts the men implicitly, but obviously one of them has betrayed that trust.

A secondary storyline involves April, Julia and John's daughter. She's in the midst of planning her wedding and the one person she needs by her side is her mother. However, April understands that Julia needs to be in Arizona for her brother, but that doesn't stop her from nearly having a nervous breakdown when the wedding plans go up in smoke.

Meanwhile, fear of going broke is leading Kelly to want to get rid of the precious family land. Julia has no intentions of sitting on the sidelines and allowing this to happen. With the help of her family, she intends to catch the person behind these horrible threats.

I loved the first three books in this series, but I actually loved this one even more. I didn't think that was possible. The characters are so well written and I absolutely adore each member of the Evans family. The love and concern they have for each other is apparent with each page. They grab at your heartstrings and won't let go. You can't help but cheer for them.

As for the story, talk about a fast-paced story. Desert Intrigue is that and more! It's an easy, quick read. I've been having a tough time this week and this book certainly lightened my mood. It's a book that will leave you with that "warm fuzzy" feeling.

This can be read as a standalone book, but I suggest you treat yourself and read them all. Linda Weaver Clarke has outdone herself with this book!

FTC Disclosure: The author provided me with a copy of this book to review. This did not influence my thoughts and opinions in any way. All opinions expressed are my own.
(reviewed 50 days after purchase)
Review by: Yvonne Hering on May 11, 2012 :
Julia Evans' brother, Kelly, inherits the family property in Arizona and opens a dude ranch. He does quite well with it, but suddenly, things take a turn for the worst and mysterious things happen. The guests believe the ranch is haunted and business takes a huge nosedive. Julia, her husband and their twin daughters take a trip to Arizona to help out, but it's not as easy as they thought it would be.

The mysterious incidents become downright dangerous, especially when Julia's life becomes the target. All signs point to someone on Kelly's ranch being the culprit. A possibility that tears Kelly apart since he trusts the men implicitly, but obviously one of them has betrayed that trust.

A secondary storyline involves April, Julia and John's daughter. She's in the midst of planning her wedding and the one person she needs by her side is her mother. However, April understands that Julia needs to be in Arizona for her brother, but that doesn't stop her from nearly having a nervous breakdown when the wedding plans go up in smoke.

Meanwhile, fear of going broke is leading Kelly to want to get rid of the precious family land. Julia has no intentions of sitting on the sidelines and allowing this to happen. With the help of her family, she intends to catch the person behind these horrible threats.

I loved the first three books in this series, but I actually loved this one even more. I didn't think that was possible. The characters are so well written and I absolutely adore each member of the Evans family. The love and concern they have for each other is apparent with each page. They grab at your heartstrings and won't let go. You can't help but cheer for them.

As for the story, talk about a fast-paced story. Desert Intrigue is that and more! It's an easy, quick read. I've been having a tough time this week and this book certainly lightened my mood. It's a book that will leave you with that "warm fuzzy" feeling.

This can be read as a standalone book, but I suggest you treat yourself and read them all. Linda Weaver Clarke has outdone herself with this book!

FTC Disclosure: The author provided me with a copy of this book to review. This did not influence my thoughts and opinions in any way. All opinions expressed are my own.
(reviewed 50 days after purchase)
Review by: Mary Walker on April 30, 2012 : (no rating)
ruined?

I have lived in Arizona for a few years, but don't know a lot about the lore of the area.

Desert Intrigue The Adventures of John and Julia Evans by Linda Weaver Clarke mixed adventure, intrigue and the lore of the Superstition Mountains along with humor and some romance into one fun book.

I found myself caring about the characters and the ranch. I didn't want to have to put the story aside to work or sleep. I was trying to solve the mystery of the Thunder God and all of the unusual happenings and every time I thought I had it there was a new twist.

This is the 1st of Linda Weaver Clarke's books I've read, and I look forward to reading more.

I would recommend this book to anyone that likes clean family friendly mystery.
(reviewed 32 days after purchase)