About the Series: 'Post Gender' fiction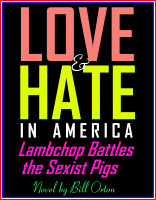 America is a nation deeply divided.. not by regions and parties, but by the Body of America.

We used to work together. We nourished each other by eating a common meal of food and ideas. Our hearts beat in the same pulse. Though thoughts differed, our minds came together on how to keep this country alive. Together, we walked on a straight spine, crossing the world, saving our people, and defeating hatred itself.

Now, hatred fights us within. It is not our mind and heart that guide this nation. One hand swings a hammer and the other stabbing with a knife. The Body of America itself is being pummeled and sliced by ears that no longer listen, eyes now blinded with fury, and lips that only spit and yell.

It is true that we cannot legislate the human heart, but if politics plays a game where hatred is the tool to take power, then the Body of America is being sent to its knees.