About the Series: Heaven's Edge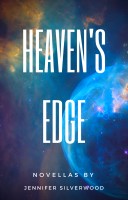 A group of refugees from a powerful, sophisticated Core World planet have been on the run for seven years.

The mission was to get away and give their children some time to grow up and help them carry on the cause.

The cause was to help the rebellion, win the war and go home.

But things didn't quite turn out the way they planned…

Published through JayHenge Publishing, the Heaven's Edge novellas is a clean teen science fiction series for anyone who wanted to crash-land on an alien world without parents. While Qeya and Ohre should be read in order, Tamn may be read as a companion or stand-alone novella. Mild violence due to kids with scythes versus vengeful predators. Appropriate for teens of all ages.
Reviews
Review by: missaligirl on March 20, 2013 :
I am going to state this right up front, so there is no confusion. I am not a large fan of short stories or novellas. Phew, got that one of my chest! I've said, many times, that I am a character driven reader. If I can't find something endearing or uniquely interesting with a character (good or bad) I have a horrible time getting into the book. Which is why shorts give me so much grief. They are rarely long enough for me to get a solid feel for the character.

That being said, that was not the only issue I had with Qeya. Of course, I had a hard time with character development but that is totally my issue. I don't believe most readers are as quirky about this as me. Don't get me wrong, they were not horribly developed in Qeya ~ it just wasn't enough for me.

Qeya is a strong girl. She's determined and has an admirable sense of responsibility. Ohre is an intriguing character but I never felt like I really knew who he was.

Qeya, her family and all other survivors are on the run. They were forced to leave their home world and now travel through space hoping for a new safe planet. When the ship is attacked, Qeya and some fellow shipmates are saved by the mysteriously heroic Ohre. However, being "saved" did not last long as they ended up on a crazy, strange and dangerous planet and must fight to survive.

The character issues are really incidental here though. My biggest problem was all the other detail. I was overwhelmed by some of the information and completely confused by the lack of detail in some other areas.

The story itself is one that I think I would truly enjoy if it was full length. I loved the science fiction of it and the bits of world building that really played out well. I think Silverwood has tapped into something that could be much, much bigger than a novella and the writing style is really spot on.

Though this one was not really a great fit for me, I do have another of this authors title sitting in wait on my ereader and I am anxious to read it. I think there is some solid talent here and ultimately I just needed this to be a full length story.
(reviewed 6 months after purchase)
Review by: missaligirl on Jan. 30, 2013 :
I am going to state this right up front, so there is no confusion. I am not a large fan of short stories or novellas. Phew, got that one of my chest! I've said, many times, that I am a character driven reader. If I can't find something endearing or uniquely interesting with a character (good or bad) I have a horrible time getting into the book. Which is why shorts give me so much grief. They are rarely long enough for me to get a solid feel for the character.

That being said, that was not the only issue I had with Qeya. Of course, I had a hard time with character development but that is totally my issue. I don't believe most readers are as quirky about this as me. Don't get me wrong, they were not horribly developed in Qeya ~ it just wasn't enough for me.

Qeya is a strong girl. She's determined and has an admirable sense of responsibility. Ohre is an intriguing character but I never felt like I really knew who he was.

Qeya, her family and all other survivors are on the run. They were forced to leave their home world and now travel through space hoping for a new safe planet. When the ship is attacked, Qeya and some fellow shipmates are saved by the mysteriously heroic Ohre. However, being "saved" did not last long as they ended up on a crazy, strange and dangerous planet and must fight to survive.

The character issues are really incidental here though. My biggest problem was all the other detail. I was overwhelmed by some of the information and completely confused by the lack of detail in some other areas.

The story itself is one that I think I would truly enjoy if it was full length. I loved the science fiction of it and the bits of world building that really played out well. I think Silverwood has tapped into something that could be much, much bigger than a novella and the writing style is really spot on.

Though this one was not really a great fit for me, I do have another of this authors title sitting in wait on my ereader and I am anxious to read it. I think there is some solid talent here and ultimately I just needed this to be a full length story.
(reviewed 5 months after purchase)
Review by: Marni on Nov. 19, 2012 :
First I wish to thank the author, Jennifer Silverwood, for providing me a copy to read and review. This genre is one of my favorites too.

This novella, is centered around Qeya. She's the upcoming healer in her royal family. Travelling through the stars, hoping to return one day to the only home they knew, their craft is attacked and she, along with several others, escape to the alien planet below. Unfortunately only a handful survive and they are determined to find the group of their kind who had gone down to the planet earlier to survey. What follows is heartache, hope, loss, love, and more.

I found myself quickly attached to the story. I didn't want to put the book down at all, I carried it everywhere with me. The beginning had a few distractions though. The wording was a bit rough in spots and the imagery wasn't as clear as could be. There were times when I just couldn't picture what the characters were seeing or describing. I would have liked a bit more time on the craft before it's destruction, investing myself a bit more into the culture these beings had been transferred into.

Once on the alien planet, a new friendship is forged with a fellow being whose social stature had been considered much below them. You get the feel of racial prejudice being more than just earth bound. The author gives you just enough to understand the social chain, but doesn't drag it on, thankfully.

I found myself enjoying a YA scifi that is a bit different than what is out there right now. The roots of the book being a traditional scifi without all the extra elements of other genres being thrown in. The ending of this novella comes to a quick wrap up, too quick for my taste. I wanted more.

So you may be asking why only 3 stars? Wording and an inconsistent pace of the story is why. The story itself? I look forward to reading the other books/novella's in this series. I recommend it to anyone who likes a good scifi with mutually strong characters and not a lot of romance thrown at you.
(reviewed 32 days after purchase)
Review by: Hannah Kollef on Oct. 17, 2012 :
"My childhood lullaby was the metallic blend of grinding gears, of hissing hydro fans and the growl of plasma engines burning."

This is the first sentence of Qeya, and it should give you an idea of just how fabulous this book is. Qeya is a space-scifi-political-epic survival drama. Those are a lot of ideas for one book, and you'd think that the author would have difficulty keeping the story dynamic and cohesive. False. Qeya sucked me in right from that amazing first sentence and didn't let up.

I loved Qeya as a character; she was smart and actually used her brain, and wasn't afraid to do what she needed to do to keep her people alive. From the very beginning, when she is one of the only people to see the danger for what it is (catastrophic) to the end, when she and the remaining survivors from her ship are stranded on a deadly planet, Qeya remained a strong female character that put the good of her people above her own needs. That is the kind of woman I like to read about!

And the details! They were short, but not lacking for punch. I loved to read about the Miners and the interesting 'hunan' race. And, well, everything.

This book was short- about 71 pages or so. I would have liked to read more, because it was such an interesting story. Otherwise, this is a five star book. I'd definitely recommend it to anyone looking for a fast, engaging read.

I got a free copy of Qeya in exchange for an honest review.
(reviewed the day of purchase)
Review by: Hannah Kollef on Oct. 17, 2012 :
"My childhood lullaby was the metallic blend of grinding gears, of hissing hydro fans and the growl of plasma engines burning."

This is the first sentence of Qeya, and it should give you an idea of just how fabulous this book is. Qeya is a space-scifi-political-epic survival drama. Those are a lot of ideas for one book, and you'd think that the author would have difficulty keeping the story dynamic and cohesive. False. Qeya sucked me in right from that amazing first sentence and didn't let up.

I loved Qeya as a character; she was smart and actually used her brain, and wasn't afraid to do what she needed to do to keep her people alive. From the very beginning, when she is one of the only people to see the danger for what it is (catastrophic) to the end, when she and the remaining survivors from her ship are stranded on a deadly planet, Qeya remained a strong female character that put the good of her people above her own needs. That is the kind of woman I like to read about!

And the details! They were short, but not lacking for punch. I loved to read about the Miners and the interesting 'hunan' race. And, well, everything.

This book was short- about 71 pages or so. I would have liked to read more, because it was such an interesting story. Otherwise, this is a five star book. I'd definitely recommend it to anyone looking for a fast, engaging read.

I got a free copy of Qeya in exchange for an honest review.
(reviewed the day of purchase)