About the Series: Casters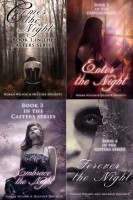 This series of four books follows the trials and adventures of three girls who couldn't be more different from each other—Alex the pierced scenester; Maryanne the wholesome; and Brooke, the beautiful New Yorker with a tough facade. Yet they all have something in common—deep and soul-searing pain. They are also all students at Streep Academy, a boarding school just one step away from juvie, where they've come to complete high school. The three have been relegated to Harvell House, the residence reserved for the hardest cases, the so-called Rejects from Reject Row.

In the forbidden attic of the old Victorian house-turned-residence, the girls discover the diary of Connie Harvell, a young woman who was confined and abused there some 50 years ago. In the end, Connie's attic prison couldn't hold her—not completely. She found a way out. At least a dark part of her did. And after reading her diary, the girls discover they can escape at will too. A terrifying, thrilling flight from their bodies and their troubles.

But God help them, their pain isn't all they leave behind when they join with the night.

And God help anyone who's wronged them...