About the Series: Mongrels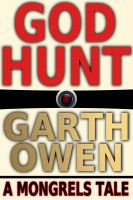 After the chaos and carnage of the resource wars, the artificial intelligences known as the Patrons stepped in and saved humanity from itself.

Earth is rebuilding itself, picking up the pieces after environmental disasters and violence destroyed so much, all the while knowing they're being watched over by powerful, unknowable machines.

On the interface between man and machine are the Mongrels, cyborgs working for the Patrons to keep the peace, and sometimes more.