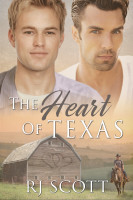 Meet Jack Campbell - the cowboy with a failing ranch and a family full of responsibilities, and Riley Hayes, multimillionaire oilman with an agenda.

Sworn enemies, and with a generation of hurt behind them, Riley blackmails Jack into marrying for year. It's not the best of starts, but the Texas series follows their love as it grows over the years, and as friends and family are pulled into their orbit and find love of their own.

Texas – A story about love and family and everything those words mean - Cowboys, Millionaires, suspense, adoption, blackmail, and a guaranteed happy ever after.