About the Series: Changels Genesis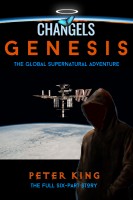 In February 2008 on a remote island off New Zealand a Russian scientist and financier made first contact with an alien civilization. He had already recruited six powerfully psychic teenagers from around the world to join him. With the help of the aliens the teenagers were able to find and safeguard future leaders of their own generation in some of the world's most dangerous places. However as they worked they also discovered more the one alien civilisation was at work on Earth and the others were decidedly not friendly.

In March 2009 their enemies struck. Twenty are missing and their home is a smoking ruin. Only one teen remains.