About the Series: MoonFall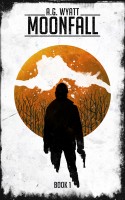 The day Earth's moon exploded, the dark of night took on a whole new meaning and existence became a matter of who could survive in the new world.

Noah Brennan has been surviving alone, with only his six-shooter as a companion. And that's the way he likes it. But circumstances led him to encounter societies trying to save civilization, no matter what the cost. He's forced to choose between his freedom and finding answers that could change his life and the world.