About the Series: Cherish Desire Singles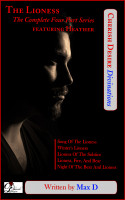 Cherish Desire Singles titles go deeper, harder, faster, and expose the soft white underbelly of sensual need while delivering thrust after thrust of sexual intensity. Discover women's illicit erogenous zones and enjoy their firsthand experiences as well as the damning desires of their perverse partners.

A warning for the casual romantic: Be prepared for sexually challenging situations as character details go way beyond height, weight, hair colour, and preferred dildo size.
Reviews
Review by: QC on Dec. 12, 2016 :
Alyssa, a "curvy masochist with a wicked smile", is an obvious flirt with a lot of sexuality to give. Tom, an escape artist who was also a "master of illusions", is Alyssa's partner. Quick to leave but eager to leave her wanting more, no matter what state they are in. They have been caught in a torrid sexual revelation since they were teenagers and the first time they were together, entwined in each others' bodies and essences. Alyssa is a girl who likes the brutal kind of love, the "pain for pleasure" kind of experience. And she has had that with Tom ever since the start.

Grazing, panting with pleasure gives way to reminiscing of old times and broken promises. But, in strange, sometimes sartorial ways, Tom aims to make it up to Alyssa. He goes on to ask Alyssa's master for permission to "play or punish", whatever the situation calls for. This strikes a bit of fear into her master, Andy, for he doesn't know the exact nature of their relationship. Oh, if he only knew.

Latex catsuit in tow, Alyssa and Tom resume their play with each other. Tom, taking advantage of the fact that Alyssa had an extremely selfish master, reveled in her adoration and exploration of her world of desires that had yet to be touched. The author really touches on Alyssa's innocence, in the past as well as the present. She is always a little toy for Tom, but, man oh man, does she enjoy playtime.
Tom's devotion for his plaything, his Alyssa, is definitely there, but it is overshadowed, paled in comparison to his desire for her skin, her body, her compliance. In one part, Tom is in love with another woman, Tanya, yet proceeds to break in to a show home to have some fun. That steaminess is undeniable, as "Alyssa slumped onto the counter and was distracted by the bright realtor cards that stuck to her sweaty palms". I guess this reader has found their new home. This is also the part in the series where Tom encourages her to go "bigger, deeper, harder" with her own solo playthings. So eager to please, that Alyssa.

Many more surprises in store. But you definitely have to open that door to find out what they are.
(reviewed the day of purchase)