About the Series: Connecting the Dots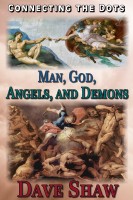 A 25 year period of Bible study paralleled the last half of my 50 year hands-on technology career. Now I'm using my highly analytical mind to answer many of the 'whys' I've encountered while studying the Bible. I don't take credit for the answers, as they 'just come', and as I have diligently prayed about them, I hope in all sincerity they are inspired.

This series starting with the foundational book Man, God, Angels and demons, answers the questions I first started to have 25 years ago. The first question, I call them dots, which are connected by the answers, was why created Satan in the first place. The book answers this and many other questions linking why Mankind and angels, including Satan exist.

The face of God, explores the very nature of God and attempts to define Him in as much detail as you would describe your spouse or a close family member. Creavolution will sort out the wheat from the chaff about evolution and how it relates to what the Bible has to say about creation. I fully believe all of the Bible, but can't deny that my eyes have seen dinosaur bones, and light that has traveled for 4 million years to reach me from distant stars.
Reviews
Review by: Jhonni Parker on Sep. 14, 2015 :
One of the more different books I've read all year, and hands down the most impactful and unforgettable. "Connecting The Dots: Man, God, Angels, and Demons" by Dave Shaw is certainly not a quick, breezy read, nor should it be. There are some deep subjects here that require, and receive, a closer examination and speculation from different perspectives. I was drawn into the author's premise about questioning Satan's role on Earth and as a part of God's plan…. Because who hasn't asked the question that if there really is a God, and that God is good, why would he allow such evil to be on Earth? While this is just a fraction of the ground that Dave Shaw covers in his book, it does provide insight from a scholarly, biblical, and personal point of view. Drawing from the Bible and examine the contents in historical context in a straightforward, but easy to follow manner, this was a smooth ride even for someone who might not be 100% Christian… there are some wonderful lessons and stories here, and the writing is excellent. Looking forward to more from Dave Shaw!
(reviewed 49 days after purchase)
Review by: Anabella Johnson on Sep. 09, 2015 :
I don't know how best to sum up this book by Dave Shaw as it covers so much and goes into such detail… but I was really impressed with it, and I kept liking it the more and more I read. I admit there were times where it did feel a bit convoluted or repetitive and perhaps could have used some paring down in some parts… there is some dense sections that I felt covered a lot of territory and I really needed to go slow and fully take it all in. But while I was reading this, I kept experiencing such a wonderful feeling of understanding and hope… like there are reasons for what happens, and it is all according to His plan. I am very familiar with the Bible, but I found there were things Dave Shaw covers in this book that I hadn't considered before. I particularly enjoyed the last 15% or so and the author's personal testimony at the end. I felt that speak to me. And I really enjoyed the "Dog Days" vignettes. Great touch to break it up!
(reviewed 44 days after purchase)
Review by: JTHACK on Sep. 09, 2015 :
If nothing else, this is a very entertaining and addictive read! Despite what your beliefs are, or how seriously you want to take the lessons from the Bible (if at all) there is no denying that Dave Shaw puts forth not only a well-crafted and engaging narrative arc re: Satan's role in God's Grand Plan, but combining it with some of the "juicier" parts of the Bible (in my opinion), and keeping it light with his own personal anecdotes (Golden Doodles are my favorite!) Makes this a great book to read, contemplate, and take away what you will. For me it was interesting hearing an (obviously) educated and well-informed man explain his own questions and what theories and conclusions he drew from analyzing them further. Never was I bored, although at times the amount of italics did wear on my eyes. Only minor editing things, nothing major at ll. Overall a book I'd recommend to Christians and Non-Christians alike, so long as they read with an open mind.
(reviewed 43 days after purchase)
Review by: James Masters on Sep. 08, 2015 :
at first I confess to being a bit wary when picking up this book by Dave Shaw, "Connecting the Dots…" as I was concerned that it might be written with a very specific target audience in mind, those who strongly believe in Christianity. Now I have no problem with people with these beliefs, and I feel people should practice whatever feels right and true for them. I consider myself more "spiritual" than "religious", but I am on board with the "good" and "Evil", "right" and "wrong" and seeing how we are all tested and challenged in life and how best to overcome and explain our difficulties. I read with an open mind and heart, and as I was reading, I found it to be applicable in all aspects of life, and to just about anyone who was reading it. Yes, it pertains to the Christian view of God and a persons' life in accordance with his relationship with a Christian God according to Scripture. But there are many profound observations made and lessons taught that really cross any spiritual boundary. There is much discussion on Biblical elements, but the author(s) bring a fresh, new spin on it with personal insights and anecdotes relating to real-life experiences that we can all relate to. A positive, moving message that should be heard.
(reviewed 43 days after purchase)
Review by: Carla Biggins on Sep. 07, 2015 :
wow, what an amazing book! I was completely sucked in from the beginning, and am so impressed with Dave Shaw's brilliant insights and ability to pull from scripture the most applicable passages to underscore his message. It is clear that he is quite scholarly in regards to Biblical Study (as his bio mentions) and that, combined with his analytical way of thinking leads him to probe deeper into certain parts of the Bible that caused him some confusion, and to look at the bigger picture of God's Master Plan, and how it all ties together with Demons (Lucifer), the Angel Society, and Man's function on Earth. This was so well-written and absolutely riveting. It is not a fast read, but should be carefully and thoughtfully studied and pondered. So many great discussion points here, almost wish I could have dinner with Mr. Shaw. Would be a fascinating conversation! Highly recommend for everyone.
(reviewed 42 days after purchase)
Review by: Steph Coleman on Sep. 05, 2015 :
4.5 stars
this book was absolutely PHENOMENAL. Brilliantly crafted and plotted with meticulous attention to facts and detail and history. Engaging narrative prose to guide us through the examinations of the Bible passages the author pulls to make his points and ask his questions. Whether you take the Scripture from the Bible literally or figuratively, or even not at all, there are some very powerful messages and stories here worthy of serious consideration that are applicable to everyone, regardless of faith. I appreciated the intimate tone of the author and his willingness to share so much of his own life with us as we all go on this life journey together. Thank you for this wonderful book, and I do hope to read more from him in the future.
(reviewed 40 days after purchase)
Review by: Darla Ortiz on Sep. 02, 2015 :
I suspect many believers will happily gobble this book up, as it is a very coherent and impressive study of the role that God intended Lucifer/Satan to play in His plan for mankind. Because wondering the role of Good and Bad in this life, and questioning why God would even create Lucifer is something that almost every Christian questions at some point. I appreciated Mr. Shaw's coherent and well-thought out questions and arguments, and his evidence from Scripture and his reasoning. Very relatable and quite astute. I enjoyed reading this and would recommend this to others (Christians and non-believers) alike without hesitation.
(reviewed 36 days after purchase)
Review by: Karen Matthews on Sep. 01, 2015 :
first, I will say up front that I am not a Christian, and while I am familiar with much of it, I do not attend church or partake in rituals. I'm more of an agnostic who just tries to follow the "Golden Rule" in life, realizing I always have room for improvement. And I will say… I wanted to read this book based on the title alone. Because I do think the STORY of the demons and angels and all they represent is downright fascinating. So I decided to read this with an unbiased mind. I am always willing to learn something new. I had many, many opinions and reactions while reading this, and was surprised at just how real and relatable it all sounded. While I don't necessarily question the role of Satan in my everyday life, it is interesting to read the perspective of someone who does, and how and what it means, and why it can actually be good. The narrative flowed seamlessly, and the writing was very good. Visually, the formatting was tedious to read on my Kindle, but other than that this was a pleasant, even enlightening reading experience. I'd recommend even to those who don't normally read this sort of thing…try it, you'll be pleasantly surprised!
(reviewed 36 days after purchase)
Review by: Claire Middleton on Aug. 31, 2015 :
I was honestly shocked at how much I enjoyed reading this book, "Connecting the Dots: Man, God, Angels, and Demons" by author Dave Shaw. I have read many, many, many books on Biblical Scripture and interpretations, and with varying degrees of satisfaction. Often I do feel that they can come across as too "preachy" (pardon the pun), or highbrow, or holier-than-thou. (Again, pardon..) However, I thought this book was a wonderful change and Mr. Shaw's author 'voice' was more like how a friend or trusted confidante would talk to you… a much wiser, learned friend or confidant! I like that he actually asked… and addressed… several questions that I've had myself over the years, and while I may not totally agree with absolutely everything (naturally), so much made sense, and I believe helped me to better understand my role in His Kingdom and His plan. Like the author, I have 'felt Job'd" (haha!) and reading books like this by others who feel the same is something that gives me peace and strength. Thank you for writing this and I look forward to reading more books from Dave Shaw in the future!
(reviewed 35 days after purchase)
Review by: Jenna Brewster on Aug. 27, 2015 :
I think what I really liked the most about this book Connecting the Dots: Man, God, Angels, and Demons by author Dave Shaw was just the easy, natural tone in which he imparts his message in such an easy-to-understand and relatable way. Although I identify as Christian, I admit my Church attendance is pretty much relegated to major holidays, and I haven't read from the Bible outside of Church since I was a child. But reading this book, and the passages the author questions and dissects, it was so clear how it can relate to life and God's master plan (and its players) on an everyday level, even in ways we might not realize. I particularly liked the stories the author included to illustrate his teachings and give broader perspectives to particular circumstances, all while showing how fully applying the Scripture and the Bible can come into play. Seemed to be very well edited and put together, and I can see this being in every Christian's personal library, as well as some who aren't necessarily that devout.
(reviewed 31 days after purchase)
Review by: Samantha Ryan on Aug. 27, 2015 :
I have to say this…. After reading this book cover-to-cover, regardless of what your religious beliefs or background is, you have to admit that this is one amazing book with some of the best "plotlines" in history. There's a reason that the Bible is referred to as "The Greatest Story Ever Told" because it encompasses just everything…. It is so relatable on every level if you look hard enough, and many things, like the existence of Satan in God's plans, can cause conflict and chaos….leading many to wonder, why??? I like how Dave Shaw tackles so many questions that many people have, and addresses them in an easy to understand manner, and backs up his observations with Scripture and real life. To me this is key in seeing where and how we all fit in, even at different stages in our lives. Recommend for almost all ages (some material might be a little dense for younger readers and may need adult supervision)
(reviewed 31 days after purchase)
Review by: Kaylee Stevens on Aug. 25, 2015 :
This book, "Connecting the Dots: Man, God, Angels, and Demons" by Dave Shaw was actually far more interesting and insightful than I first expected it to be (no offense to the author). I just wasn't sure what I was getting myself in for, but as I started reading I was transfixed by Mr. Shaw's impressive knowledge of Scripture and of life in general… and the way he writes and puts it all together is very moving, eye-opening, and ultimately transformative. "Connecting the Dots…" is an absolute 'must read' for anyone regardless of where you are on your spiritual and life journey. I feel like Mr. Shaw does a fantastic job of relating the role of Satan, angels, and their relationship to man in an easy to digest manner, also while explaining precepts on how to live according to what God has planned. A wonderful read, a definite keeper.
(reviewed 29 days after purchase)
Review by: EpicBookQuest on Aug. 07, 2015 :
Review via http://epicbookquest.com

Have you ever wondered why God, who is all-knowing and all-powerful, chose to create Satan?

Is it possible that, in the grander scheme of things, Satan and his hordes of demons are unknowingly playing a role in God's great plan for mankind?

In this first book of the Connecting The Dots series, author Dave Shaw tackles a question of the ages- why did God create Satan? Based on sound Biblical doctrine, Shaw takes readers on a journey through creation, the war in heaven, the fall of Satan, and the redemptive work of Jesus Christ on the cross. While the Bible doesn't always give us explicit reasons why, Shaw shows us how we can take what we do know from scripture to "read between the lines" in an attempt to connect the dots.

Shaw explores a wide variety of subjects while attempting to keep the bigger picture of God's redemptive plan as a focal point. The book offers readers a look at some of the more obtuse, seldom-discussed topics in an attempt to answer some of our deepest questions.

I found this book quite an interesting read. Shaw writes from the heart, unafraid to address even the stickiest of questions, being sure to cover all bases with the solid facts of scripture, and labeling all uncertain ponderings as such (I think, it would seem, etc.). I was especially appreciative of his adamant reiteration of the inerrancy of the Bible.

For sure, the author has approached a tricky subject with this book. Surmising is a slippery slope, you have to be careful when interpreting the in-between messages. You have to use God's word, and I feel the author did a good job with this for the most part. In particular, I was inspired by the way he shared the messages of salvation -through Christ alone- and of grace, which I found especially powerful. One thing I would have like to see was an equal time given to the alternate view of the Genesis 6 account.

Shaw has a wonderfully poetic way of phrasing things, using vibrant imagery to create a lasting impression for the reader, particularly in the chapter titled "The Tapestry". Though this book traverses some dark terrain, it is always forward-looking to the culmination of God's perfect plan, ending with a chapter (my favorite!) titled "The Banquet", which paints a portrait of the wedding supper of the Lamb, when all believers will be united with Christ forevermore.

An interesting read that will make you think, I would recommend this book to both believers and non-believers who struggle with questions regarding evil and Satan, and where that fits into the big picture of God's plans.
(reviewed 9 days after purchase)