About the Series: The Iron Altar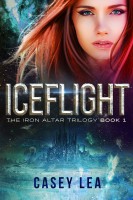 The Iron Altar trilogy follows the paths of two women, one young and the other ancient beyond belief. Both are destined to die on the same altar.

One death would precipitate mass murder and destroy billions. The other sacrifice would claim only two lives - the martyr and the monster who made the Iron Altar.

Amber Grace will be that martyr, but only if she reaches the altar first. And only if she still thinks we are worth dying for...
Readers of This Book Also Read
Reviews
Review by: oldhorsegirl on March 16, 2016 :
intriguing plot, well-written, well edited, I definitely recommend reading--
(review of free book)
Review by: David Thompson on Oct. 15, 2015 :
Very enjoyable and novel storyline.
Pity Frostbite (book 2) only seems to be available for Kindle.
(review of free book)
Review by: martin xiong on Sep. 16, 2015 :
Grammar and tidbits here and there about tossed aside, this book is very, VERY good.
Some of the terms were hard to latch onto on their, that is without having had the wonderful insight of a highly sarcastic but super smart kick-ass heroine-ish. And she definitely IS NOT a wilting violet. She's supa cool-headed, even despite the alien (ha, ALIEN...) allure of well...aliens!!!
It's so sweet and yet thrilling the obvious bloom of character development between the two mains. Keep writing! I'm gonna smoozh on over to your other Altar Iron works. Well done!
(review of free book)
Review by: Kristy Hoover on Aug. 15, 2015 :
Well written space opera with cool tech (once my brain conjured them to life), interesting aliens with funky speach and a strong female lead. Good read!
(review of free book)
Review by: ticup on Aug. 06, 2015 :
Very well done!! Loved it!!
(review of free book)
Review by: Austin12345 on July 20, 2015 :
Very enjoyable reading, couldn't put it down and was left hoping the next book comes out ASAP.
(review of free book)
Review by: William J. Carty, Jr on July 20, 2015 :
I agree! It is an out standing novel! I couldn't put it down! I can not wait for the other two novels to come out!

Bill Carty
(review of free book)
Review by: Jack Scurlock on July 16, 2015 :
Outstanding! A great read to anchor a series...I read a book a day (yet this one took longer) and having the contents of two bookstores at my beck and call (I own them), I set all aside for this excellent ebook. My highest praises to Mother and Daugher...please keep up the good work.
captjack
(review of free book)
Review by: Julie Berrie on July 14, 2015 :
This is the first book I have read of Casey Lea. Very well written, love the character names, and language idioms. Interesting plot. I will be reading more of Casey Lea's books
(review of free book)