About the Series: Kingdom City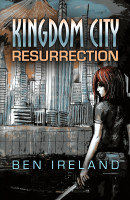 With the death of Kingdom City's chief of police in a terrorist attack, Autumn Stevens lost the only man who could save her from herself. Still paralyzed by grief after six months, the last thing she expected was his return—along with one thousand of his fallen comrades.

As confusion turns to violence throughout the city, Autumn discovers the lengths she will go to protect her family, and right the wrongs committed in the name of security and prosperity—especially those committed by her own hand.