About the Series: The Atlas Trilogy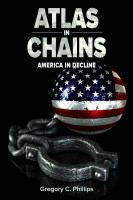 The federal government and big business collude to destroy two entrepreneurs who have created something that threatens them both. As a dictatorship grows in Washington, it begins stripping away the freedoms and liberties of its people, and a separate Union forms. Violence erupts, blood is shed, and people vanish.

Will it result in a second civil war? Can democracy survive or will it die forever?