About the Series: Harper & Lyttle, Inc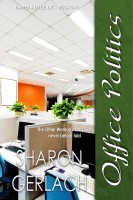 Welcome to life inside the cubicle. From blame-storming, salmon days, and brain-blizzards to the manic head of Inventory Control, miniature golf tournaments, and memorable Christmas parties, the Harper & Lyttle Series presents the business world from the viewpoint of various employees in several departments of a fictional Los Angeles software development firm.

Join Frannie, Sarah-Jane, Chelsea, and more as they navigate the politics and drama of Every Office, USA and discover that Prince Charming has many, many faults and true love takes a lot of work.
Reviews
Review by: Carol on June 11, 2013 :
A fun novel set in a dysfunctional software company in department that is a mini Peyton Place.
(reviewed 12 months after purchase)
Review by: M. O. Stanko on Jan. 14, 2012 :
I really like this author. She entertains her readers and has a unique style that puts her books above the average romance novel. If you enjoy this you'll enjoy the next one the secret dream of Sarah Jane. They are both independent stories but reading Office Politics adds to the enjoyment of Sarah's story.
(review of free book)
Review by: Gary Wilson on Aug. 23, 2011 :
Office Politics is a hilarious look at at the behind the scenes happenings in the corporate jungle.

Frannie Freeman, the nattator of this story gives her margarita tinged view of the company new hire "Fresh meat", her supervisor "Malaria" and the man of her dreams,Sam who married her "enemy". She knows Sam's misrable, but how far will she go to win Sam's affection.

Sharon Gerlach's no holds barred story telling will leave you laughing and sharing Frannie's pain, frustration and ... well you'll have to read to find out.

I highly recommend adding Office Politics to your e-book collection
(reviewed 28 days after purchase)
Review by: Lauralynn Elliott on July 30, 2011 :
I really, really enjoyed reading this book. It was packed full of humor, but at the same time, addressed real issues. I found myself laughing my head off at the funny situations Frannie got into, but I also felt her pain. This book kept me entertained the whole time I was reading it, and I found it hard to put down. Sharon Gerlach has shown, once again, that she has a great writing style that can keep a reader hooked and begging for more.
(reviewed 27 days after purchase)