About the Series: Cyberspace Is Real World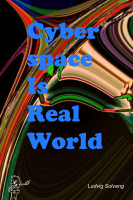 It isn't that easy to be a teenager, neither in Real World, nor in cyberspace. RW occupies you to a large extent, with school, parents, siblings and all that. In cyberspace, it's possible to meet friends, play a game, or... whatever.

Bazan prefers cyberspace. His friends do too. It's like, their life in RW is only the other side of their existence in Virtual Reality.

They are known among themselves as the Outcast tribe, a large array of personalities and abilities augmented in cyberspace. Bazan "thinks differently".

It began with a game, morphed partly over to RW, then cyberspace became more dangerous than Real World.

In a game, you might kill, steal from, or fool your opponent. But Virtual Reality is more than that. It's another dimension of Real World, with money and criminals and myths and everything.

And who is the girl you like in VR? Will she fancy you in RW?

Sometimes, it's hard to differ between what's going on where. A mother might believe something. Is it your task to correct her? She is a grown up, isn't she?

Is it possible to make an Artificial Intelligence, and give it a human upbringing? No one have done it so far, so it's time to give it a try.