Alfred Wallon
Biography
Alfred Wallon was born in Germany in 1957 and has been a student of the Old West since he started reading. "I inherited this love from my father," says Alfred. "I remember him reading a lot of western novels and watching TV series like High Chaparral, Laramie, The Rifleman and quite a few others." Alfred grew up with western novels and decided in 1980 to write one of his own, Showdown in Abilene. Influenced by the TV series High Chaparral, this was to become the first book in his epic ranch western series, RIO CONCHO. Over the last 30 years Alfred, who is also a member of the Western Writers of America, has written 30 novels in this series. A prolific penman, he has also written some 150 short novels and 50 paperbacks and harcovers during the last 30 years, including everything from historical westerns to SF & Fantasy, Crime and Adventure to Horror. With PP co-founder Ben Bridges he has collaborated on three books, All Guns Blazing, Cannon for Hire and Earth-Shattering. He also writes a series called THE CIVIL WAR CHRONICLES. "More than thirty years after I started writing westerns, one of my dreams has finally come true," says Alfred. "Thanks to Piccadilly Publishing, I finally get the opportunity to see English-language editions of my books being offered to western readers worldwide."
Where to find Alfred Wallon online
Books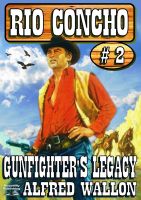 Rio Concho 2: Gunfighter's Legacy
by

Alfred Wallon
When Sam Wilcox reached the Brasada country in West Texas, his enemies were still following him. He was wounded - and his only chance to stay alive was young Billy Calhoun. When he regained his consciousness at Rancho Bravo he tried to hide his dark past, but it was only a matter of days until the killers found out where to find him. Then there would be a bloody reeckoning...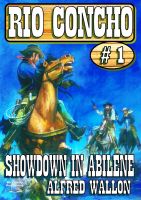 Rio Concho 1: Showdown in Abilene
by

Alfred Wallon
When the drovers of the Rancho Bravo hit the end of the trail in Abilene, they needed to let off steam-Texas style. A fistful of men are jailed for fighting, leaving foreman, Jay Durango to face down an old enemy - guman Lee Kendrick. Guns blaze and fists fly in this traditional Western novella.
Alfred Wallon's tag cloud