Mark Trade
Biography
Semi-Retired (once again). Tried retirement at 40, got extremely bored, ventured back into the world of Finance and Corruption. Not my own, but corruption committed by others. Thought there must be a better way, without rocking the boat. Turns out there was a way, that not many people were using to earn good money. Infact, no-one was doing it. The old saying, never look a gift horse in the mouth. Did some homework, research and costings and have never looked back.
Where to find Mark Trade online
Books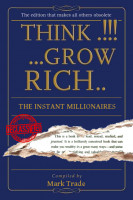 Think.!!! ...Grow Rich.. - The Instant Millionaires
by

Mark Trade
If you have ever read the book, "The Instant Millionaire" by Mark Fisher or "Think and Grow Rich" by Napoleon Hill, you have probably wondered, "what the secret was" that these men referred too. In this book, "Think.!!! ...Grow Rich.. - The Instant Millionaires" compiled by Mark Trade, both those books are de-classified and the secret is revealed.
Mark Trade's tag cloud