Nan Sweet
Biography
I don't eat dragons, fairies, or toadstools, although I will admit to swallowing the occasional gnat (on accident). One really couldn't swallow a dragon or fairy without full knowledge. In addition, I write. You'll find my books are full of adventures and well, dragons. I haven't written about fairies or toadstools yet. I'm terribly shy and don't have my own website or twitter account yet. But I love to read, and hope you enjoy these adventures.
Series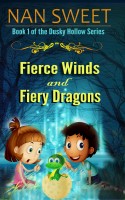 Dusky Hollows
by

Nan Sweet
Join the Dusky Hollow's kids as they protect baby dragons, discover magical lands, and find friends in the strangest places.
Books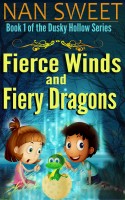 Fierce Winds and Fiery Dragons (Dusky Hollows: Book 1)
by

Nan Sweet
(5.00 from 1 review)
Ivy and Carrie love their new classroom even if the new teacher is a little strange. When Mrs. Huffity asks for volunteers to care for an egg, Ivy doesn't budge. She's had a few scary dreams about that egg and wants nothing to do with it. The egg hatches, and Ivy is thrown into an adventure with fierce winds and fiery dragons.
Nan Sweet's tag cloud