Peter Maurice
Biography
Well, I hail from the frozen north of Quebec, Canada. A wondrous isolated land where I spent many a chilly evening staring up at the sky dreaming of new worlds and adventures I would love to be having instead of freezing my butt off. Even from a young age I loved to spin a good yarn to anybody who would listen, though my parents told me I just loved to talk. I would make up songs, short stories and plays to entertain myself and my cousins during long summers at the fishing camps. I followed my dream and started working in the video game industry in Vancouver and it is during this time I found the inspiration to finally put my tall tales to virtual ink and began to write my childhood dreams.
Where to find Peter Maurice online
Series
Books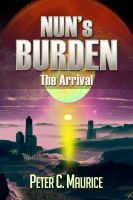 The Arrival
by

Peter Maurice
(5.00 from 2 reviews)
Marsden is a jarhead turned scientist. Lei is a university student prancing her way around the stage to pay the bills. An alien warrior is carrying out a ritual birthright to prove his rule over his house. A young child yearns for knowledge and answers in a society that celebrates the predictable.
Peter Maurice's tag cloud