Rebecca A Stelly
Biography
Rebecca Stelly has enjoyed writing and illustrating her own stories since she was a young child. She enjoys historical exhibits, nature, mythology, cryptozoology, museums, travel, and blogging. Inspiration and ideas from these activities are incorporated in her writings and illustrations. She is a native of southwest Louisiana.
Books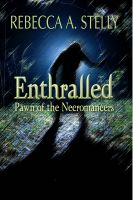 Enthralled: Pawn of the Necromancers
by

Rebecca A Stelly
Having swapped his mortality for slavery, Sam, the undead butler, is forced to serve one human master after another. Janet, the eccentric owner of a New Orleans night club, is his current master. Sam is kidnapped by Janet's shady friend Luther when it is discovered that his foggy memory holds the key to a priceless treasure. Janet investigates only to become involved in the dangerous caper.
Rebecca A Stelly's tag cloud