S.F. Riley
Biography
I have long been a lover of books of all genres. Though science-fiction has long had a special place in my heart. With that in mind, I have set out to combine my love of Space Opera/Science-Fiction and naughty, tingly things. In my spare time I drink copious amounts of coffee, catch up on my favorite authors and, as the internet demands, watch cat videos.
Where to find S.F. Riley online
Books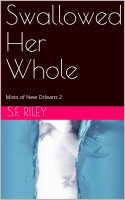 Swallowed Her Whole: Mists of New Orleans 2
by

S.F. Riley
Price:
$2.99 USD.
Words: 10,890.
Language: English.
Published: June 20, 2017
. Categories:
Fiction
»
Erotica
»
Paranormal
Liz wakes in the dark room, aching and exhausted from the incessant encounters with the mysterious man beside her. His bulging muscles and icy, dead eyes penetrate her being every time. Slowly, she begins to realize the sinister nature of this place. But does she dare try to escape? The world outside their lustful cage may be just as dangerous as the one she currently inhabits. Should she e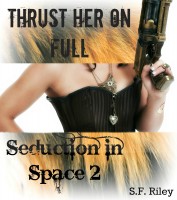 Seduction in Space: Thrust Her On Full
by

S.F. Riley
Commander Kirani Starr continues her epic quest for survival and sexual healing, as she's joined by her new alien allies, fleeing for their lives. Passions flare, and fur flies, in this continuation of the Seduction in Space series. Will Kirani Starr and her crew escape? Or will they become unwitting slaves to their new purring compatriots?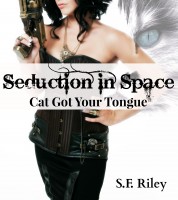 Seduction in Space: Cat Got Your Tongue
by

S.F. Riley
Classic science-fiction meets steamy erotica in this exciting new series. Commander Starr has lost most of her crew with her only allies, a strange, cat-like alien species. These mysterious and sensual creatures possess great skills in healing and other, passionate arts. But, can the commander trust these new allies to help her remaining crew? Or will their claws prove too powerful?
S.F. Riley's tag cloud