Ciar Cullen
Biography
Ciar Cullen—In one word, multifaceted. Swimsuit model, actress, entrepreneur, neurosurgeon, humanitarian, mild psi abilities. Oh, a biography, you said? Ciar rhymes with beer and has a "hard c". Ciar took her mother's name to honor that grand lady's Irish heritage. She is actually a middle class, middle aged dreamer with a background in archaeology and a love of history, nature, and good hazelnut coffee. She's published 15 books and several short stories—most of them paranormal. Ciar never dreamed about becoming a writer, has not been penning stories since she could pick up a pen, hasn't won any awards that are actually meaningful, and is not a member of the RWA. She hopes to retire one day to a small island, population two. She lives in New Jersey with her husband, a photographer, and one magical talking cat.
Where to find Ciar Cullen online
Books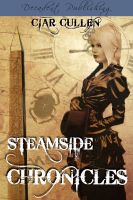 Steamside Chronicles
by

Ciar Cullen
Emily Fenwick, formerly with the NYPD, is now the reluctant defender of 1890 New York. Ignoring her inner voice, she went to a carnival in Central Park and entered a Victorian tent in hopes a psychic would have some encouraging news. The guarantee she received of meeting a tall, dark, and handsome stranger comes with a huge catch - he lives in an alternate dimension of the past.
Ciar Cullen's tag cloud