Christopher Antony Meade
Biography
Adolf Hitler, The Illuminati, Napoleon Bonaparte, Barack Obama, Noah in his Ark, and a whole host of other denizens of The Wikipedia Free Encyclopedia. What do they all have in common?

Simple really. They are all some of the growing cast of characters who tremble at the mention of of Christopher Antony Meade and his satirical exposes.

They have no secret that won't be revealed in these books, whether true or false. You be the judge.

This controversial author does not believe in writing stories about safe subjects only.

If you want to find out the best way to make delicious carrot cake, you have got the wrong man. But if you would enjoy reading about how the former President of The United States is one quarter cat because his grandmother had an intimate encounter with a shape shifting feline, you can only find it out from reading his irreverent satires.

Find out how Osama bin Laden's fixation with uniformed schoolgirls eventually leads to his destruction.

How do The Cheshire Cat, Larry the Downing Street cat and Barack Obama come to share a story with Queen Elizabeth II? The answer can be found in his first explosive book, "The Zombie, the Cat and Barack Obama".

If you want to find out some more about this thought provoking, but hilariously funny writer, here is the customary biographical snippet.

The first part of his life was lived in Ireland, where he spent a lot of time falling off barstools, and his existence since 1986 has been principally in The UK in London. Recently he moved to the delightful town of Gillingham in the county of Kent. Nowadays he only manages to fall of park benches, as the global recession has made bars too expensive.

He lives with his cat, who is all the company he usually need. Her conversation is limited to purrs and meows. That suits him very well, as so many people only talk rubbish.

His politics could be described as a mixture of extreme conservatism, but leavened by a devotion to fairness, and with a particular devotion to "Gay Rights".

So that is a brief sketch of a curious and sometimes contradictory individual.

His main redeeming feature is a deep imagination, and a rather twisted sense of humour.

These characteristics shine through all his books, making them truly literary explosions.
Books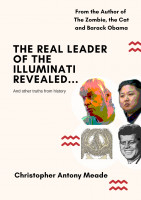 The Real Leader of the Illuminati Revealed
by

Christopher Antony Meade
The best satire should leave the reader thinking "this could all be true". In this bitingly funny series of satirical essays, Christopher Antony Meade takes aim at a variety of targets from Noah and his Ark to Kim Jong-un. The true identity of the Illuminati leader (you'll never guess who) is revealed, as well as what really happened to President Kennedy in Dallas in 1963.
Christopher Antony Meade's tag cloud