Tony Robbins
Biography
Dr. Tony Robbins has been a Pastor for over 27 years, currently serving as Pastor of Covenant Evangelical Church of Christ in Christian Union. His Christian heritage includes both his grandfather and father being pastors. Tony has a B.A. in Theology, Masters in Christian Counseling, and a Doctorate in Ministry in Christian Counseling from Jacksonville Theological Seminary. In addition, Tony has been published in multiple publications and is an award winning Gospel songwriter.

Tony is married to Dr. Melody A. Robbins. They have two children, son A.J. Robbins is married to Mary Elizabeth Scott Robbins, A.J. is currently serving in Iraq, and daughter Betty Louise Robbins. As well as three grandchildren: Love, Malachi, Kuragious.
Books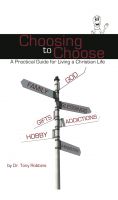 Choosing to Choose: A Practical Guide for Living a Christian Life
by

Tony Robbins
This book is designed to take a look at why you are, where you are. It is to help you see you have a choice!
Tony Robbins' tag cloud