Iain Morrison
Biography
A wartime baby-boomer Iain Morrison has been a forester, paper maker, gardener, social worker, politician, a performer, but mostly a teacher. He worked in the Highlands of Scotland, Edinburgh, South Wales and even in England.His love of the Highlands is genuine and visceral but in his sixties the midges and the rain triumphed and he now lives in Devon with his second wife, Joy.He has written plays, musicals, poetry, short stories and songs, a few published but more performed.This is his first novel, the fruit of five years toil.
Where to buy in print
Books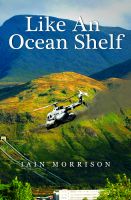 Like an Ocean Shelf
This fast paced novel, set in the modern Scottish Highlands, is a thriller with faintly ghostly echoes. Recently retired from the Special Boat Service, James Gray is involved in seismic exploration of the sea bed. The cast of characters widens to include strange senior police, old naval spymasters, active politicians and personnel from national and international organisations.
Iain Morrison's tag cloud