J.A. Beard
Biography
J.A. Beard is a restless soul married to an equally restless soul. His two children are too young yet to discuss whether or not they are restless souls. When he hasn't been writing, studying history, or making excuses for not writing, he's tried his hand at several careers including intelligence analysis, programming, and research science. Though he likes to declare himself the Pie Master, he's yet to prove his worth in the brutal baking show-downs of Celebration, Florida.
Where to find J.A. Beard online
Series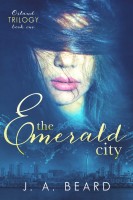 Books
J.A. Beard's tag cloud
Smashwords book reviews by J.A. Beard
IT'S THE ECONOMY, STUPID a Rhodes Scholar Education in One Hour on Nov. 01, 2012



Disclosure: I was given a free copy of this book by the author. Mr. Jute provides a brief survey of the major strands of Western economics thought, along with the men who developed them. This work is written with a crisp and clear style that gets the information across readily. Given the joys of narrative history and what not, I did find myself missing that potential angle and perhaps wouldn't have wanted to read a full-length book written in this style, but this short work (~20,000 words) does what it's intended to do before you get tired. Now, I already had a firm grounding in economics before looking this over, so I can't say that it brought necessarily a lot of new information to my attention, but I do think it'd be very useful for people who haven't studied economics at all and are trying to get a feel for major economic theories and where they came from. Now, of course, there's the old joke about getting ten economists in a room and asking them a question and getting ten different answers. There's still a lot of debate to be had for the validity of certain economic theories and models, but there it is important to realize that the thoughts of these economics are directly impacting how politiicans of all types form policy. Right now, we're in the middle of The Great Recession. Economics and economic policies from on high have political and personal consequences for every citizen, so it is important, I think, for every educated person to have at least some grounding in the "dismal science" of economics. I will note that I was rather surprised by the ommission of any mention of Hayek in this book, though. Obviously, in so far as those general strands of economic thought go, Friedman (who is discussed) is the most directly influential, but in a work that is more a historical survey than anything, I would think Mr. Hayek would be worth at least a quick mention.

Mr. Bear on Jan. 15, 2013


(no rating)
Interesting story with a less commonly seen type of supernatural. I think this would have made a cool novella if expanded.

Mr. Bear on Jan. 15, 2013



Oops, forgot my stars my review.