Jan M. Alexander
Biography
Jan M. Alexander stirs fantasy, paranormal, romance and literary genres into her writing brew. Her novels and short stories can be enjoyed by both adults and older young adults. Some of her favorite things are snowy forests, wild oceans, fantasy and paranormal art and books, orchids and feeding unsalted peanuts to crows. While sipping hot cocoa (she is constantly exploring new recipes), she reads all types of books from bestsellers to obscure sellers to children's books. She is currently hard at work on her second novel, and writes by the light of the moon.
Where to find Jan M. Alexander online
Books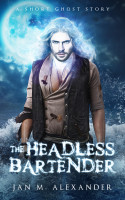 The Headless Bartender
by

Jan M. Alexander
The last time autumn storms blew through the town of Merfisham, a young woman disappeared... This time, September winds deliver a headless bartender on the front steps of Keel's, the local pub. The townspeople are enchanted by his charm, despite his missing head. But not everyone believes his presence is a blessing. The three old fishermen in the village predict another woman will soon vanish.
Close To Dark
by

Jan M. Alexander
Seventeen year old Alida was born to an angel mother and vampire father. When she is left without access to a potion that quells her bloodlust, the human relationships she cherishes become threatened. The scent of war is in the air, and when Alida uncovers a family secret, she must decide if blood is worth the price of her friends, a boy named Evan and her soul.
Jan M. Alexander's tag cloud