J. B. Durbin
Biography
J. B. Durbin is a retired infantryman who served 23 years in the U.S. Army. He attended Western Kentucky University where he majored in Political Science. An Airborne Ranger, he served in a variety of positions including infantry platoon leader, company commander, and battalion executive officer and as the Chief of War Plans for U.S. Army Europe. He also taught at the Combined Arms and Services Staff School in Fort Leavenworth, Kansas. After leaving the service, he earned a Master's of Science in Organizational Behavior, then became a certified teacher and began teaching history at his local high school. Lieutenant Colonel (USA Retired) Durbin now resides in Connecticut with his wife and two dogs. He enjoys working as a conditioning coach for the high school football team, playing golf and writing.
Books
UN Real Paine
(5.00)
Book two of the Paine Saga. The plague that destroyed billions of people is over, but a more insidious plot is hatched, one that threatens the privacy of everyone on the planet. Unaware of the new threat, Michael Paine Martin joins the United Nations Military Force and is sent on a mission to stop a potential war between Serbian guerrillas and the rest of Europe. Everything goes wrong.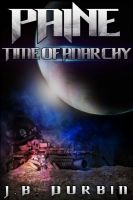 Paine - Time of Anarchy
(5.00)
A CIA-manufactured plague was bioengineered to attack coca plants in an effort to eliminate cocaine production.The plague mutates and destroys food plants worldwide. Governments collapsed and billions died. Follow Michael Paine Martin, the son of a mercenary leader, as he tries to protect himself and his family from the ravages of anarchy.
J. B. Durbin's tag cloud