robert lathrop
Biography
Robert W. Lathrop was born in Chicago Ill. He entered the military in 1966 and served 6 years. Upon completion, he resumed his entrepreneurial endeavors until he retired in 2013. He has two sons and three grand children. Over the last 15 years, he has written three fiction novels, each having 3-4 separate episodes.There are 3 others in the works; mainly SY - FY,with young adults in mind. One of his favorite things to write about is subjects pertaining to children. There are 7 titles in a series of short introductory poems, called Pond Creatures. His first book Too Small was released in February of 2016. He now resides in Phoenix Arizona where he draws inspiration from the mountains, lakes, and the abundant wild life that surround the Phoenix valley. "I will continue to write as long as I'm having fun"
Smashwords Interview
Books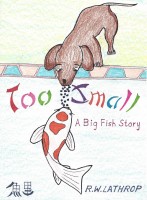 Too Small
by

robert lathrop
Too Small is a very young, very small, very special Koi fish who eats, swims and plays with his seven hundred brothers and sisters.He grows up thinking he's different than all the rest. He is, but it's his difference that earns him a place in the Emperor of Japan's Royal Garden Pond. His colors have proven him to be a true Kohaku, the most prized of all Koi.
robert lathrop's tag cloud