Phylicia Joannis
Biography
Reared in the West, taught in the South, and dwelling in the North, I'm a freelance writer and author, wife, and proud pet owner. I work to support my family and my passion. This is what I was born to do. This is my write or die.
Where to find Phylicia Joannis online
Videos
Save Me (HD) book trailer
Logoria Series Book 1 Trailer. A brief overview of the first book Save Me in video format.
Listen to Me Book Trailer HD
Book 2 of the Logoria Series.
Don't Judge Me trailer
Book 3 of the Christian Teen Logoria Series. Jennifer Smith isn't new to the Christian walk. She's always tried to live out the faith she believes in, but sometimes it gets hard. Like when your little sister won't leave you alone. Or your father, who only comes around when he needs something, decides he needs to visit for a weekend. Or when your best friend betrays you. Can her love for the Lord outweigh her frustrations?
Series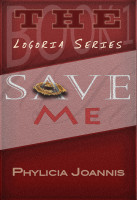 Books
Phylicia Joannis' tag cloud