Sandra Hanson
Biography
Born and raised in California I am blessed to live in one of the most beautiful places in America - With the most awesome husband a girl could ever wish for - And four amazing kids. After earning a Bachelor's Degree in Marketing and Advertising from CSU Fullerton, I began a career in advertising, took a short spell as a missionary in Thailand, then moved into office management. After my kids were school age I fulfilled another dream and took a turn at teaching as I home schooled them through fourth grade. That was super fun! It's pretty exciting to watch your kids learn! Once long division stole the joy from teaching and my kids entered public school I volunteered at various places doing odd jobs - sometimes literally odd! Now as I approach my mid-century mark, the big 'Five-0', and my kids are closing in on adulthood I find myself daydreaming about 'what's next'?! A comment from a friend challenged me to set a goal to lose weight and recapture the body I had at 25. Friends will tell you that when I get into something I have a lot of passion, and this is true for my first book Ketones Aren't From Motown - A Weight Loss Success Story. After months of research and tweaking my plan to make it livable I wanted to share how I lost weight, but more than that I wanted to spread the word to middle agers: You don't have to look your age! You can rediscover your younger you and feel great while doing it! As other challenges come along, or as I reflect on my 50 years on this planet, I hope to find more topics to write about. My desire is to relate to and encourage people, make them laugh a little and, if possible, present them with some thought provoking subjects. Thanks for taking the time to read about me!
Where to find Sandra Hanson online
Books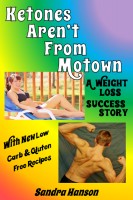 A Weight Loss Success Story - Ketones Aren't From Motown, With Low Carb, Gluten Free Recipes
by

Sandra Hanson
(5.00)
After extensive research, fifty year old author Sandra Hanson developed a plan which led her to rediscover the body she had at twenty-five. Ketones Are Not From Motown is her humorous and relatable story and guide on how you too can lose unwanted body fat while eating low carb, gluten free foods like Eggs Benedict and Chocolate Dipped Strawberries.
Sandra Hanson's tag cloud