Selwyn Parker
Biography
A champion triathlete and devout cyclist, Selwyn Parker is the history-loving author of a dozen books. He spends two or three months every year cycling the back roads of France on his Montague folding bike, often in company with his wife Margaret, a former triathlete. Proficient in French, he's just finished the first of a trilogy of novels set in France and England in the opening years of the 12th century. And he's about to release a ghosted biography called All the Oceans, a salty yarn about the remarkable life of yacht designer and ocean-racer Ron Holland with a foreword by client Rupert Murdoch.
Books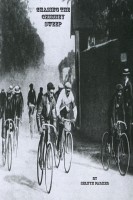 Chasing the Chimney Sweep
by

Selwyn Parker
The original Tour de France of 1903 was much tougher than today's version, with stages over 400kms long. The author of ten books of history and travel, Selwyn Parker and three others undertook to ride in the tracks of the original hard men. The narrative starts and ends in Paris as the cyclists wend their way over 2,000kms of rural and urban France in homage to the supermen of last century.
Selwyn Parker's tag cloud