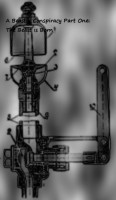 The Beastly Conspiracy Part One: The Beast is Born
A strange Beast stalks the alleys of seventeenth century London, striking terror into the hearts of the citizenry. Detective Belle is assigned to investigate the case of the Beast of London. During the course of her investigation she discovers a conspiracy that reaches the heights of London. The beast she was assigned to capture may be her only hope of coming out alive.
E' Guerra - Easy Italian Reader
E' Guerra - Easy Italian Reader Improvvisamente é arrivata la prima prova di difesa per la libertà ed il prezzo da pagare sarà carissimo. Roosevelt presenta il suo caso al consiglio e l'America va' in guerra. Era l'anno 1941.