Alien Apocalypse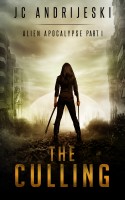 The Culling (Alien Apocalypse Part I)
Jet is a 19-year-old skag, one of the humans still living free on Earth following an invasion of creatures called the Nirreth. Squatting in the ruins of Vancouver, Canada, Jet and her family eke out an existence underground, hiding from the culler ships. No one knows where the ships take the people they grab, but they never return. When a culler finds Jet, she may discover the truth the hard way.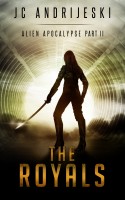 The Royals (Alien Apocalypse Part II)
Now a slave of the Nirreth Royals, Jet spends her days babysitting the heir to the alien throne and her nights training for the Rings, the Nirreth televised sport where humans navigate perilous courses, trying to stay alive. As the first female ever to run in the Rings, everyone expects Jet to die in the first round…but the way things are going, Jet will be lucky to make it to the match at all.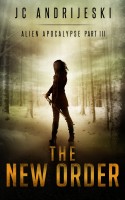 The New Order (Alien Apocalypse Part III)
Jet finds herself going from slave owned by the Royals to honorary member of the Royal family, pretty much overnight. It doesn't take her long to figure out this is hardly a prize, and that her new role as Laksri's official consort is likely to get her killed. Meanwhile, the Ringmaster Trazen seems more determined than ever to put Jet in her place as a 'mammal' and a slave.