Fram Gage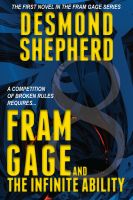 Fram Gage and The Infinite Ability
The Ability Chamber gives children abilities such as Super Speed, Invisibility, and Wall Climbing in competitions against each other. Fram Gage and some friends are called upon for a special contest. During the match, rules within The Ability Chamber change and put the children's lives in danger. A unique ability—the Infinite ability—may be the one thing that helps them reach their goal.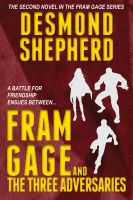 Fram Gage and The Three Adversaries
Three years after the tragedy in The Ability Chamber that left him in a coma, Fram Gage wakes up in Biality Orphanage. A sudden accident in the orphanage leaves him alone. On top of that, three people emerge with special abilities, and they want to capture him. These adversaries are the key to solving his problems. Using his Infinite ability, he's determined to stop them.