ScrapPileStyle Patterns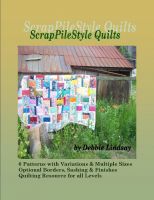 ScrapPileStyle Quilts
ScrapPileStyle Quilts is a collection of six quilt patterns in multiple sizes; utilize your fabric scraps or create with a fabric selection. A variety of interchangeable layouts, borders, sashing and binding options to create your style quilt. Charts, formulas and diagrams will guide every level quilter. An incredible quilting resource book you will refer to time and time again.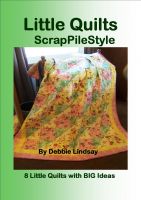 Little Quilts, ScrapPileStyle
Little Quilts ScrapPileStyle, is a collection of 8 smaller intriguing quilts with BIG ideas. Create from your stash, or follow the fabric charts, to create lap, crib,tablecloths, prayer shawls, wheelchair quilts...little quilts with big potentials. A quilting resource section to assist beginning to seasoned quilters.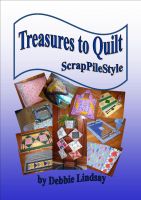 Treasures to Quilt
Treasures to Quilt - ScrapPileStyle offers a collection of smaller projects to sew and quilt from the resources of your stash. Patterns for all level. A collection of trinkets, from a tooth fairy pillow, to place mats with napkins, pillowcases,to a variety of potholders; basic ones for beginners and Pot Pinchers, double handed potholder, to casserole cozies. A full detailed resource chapter