A King's Head Trilogy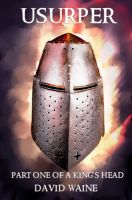 Usurper
Callin Vorst is the youngest member of the Kingdom's second family. Convinced that his father should occupy the throne instead of the incumbent, he strikes a bargain with a creature of myth: the 'Hag'. She launches him on a career that will see him befriend the beautiful Princess Avalind and become a national hero - but at a terrible cost as the Hag exacts her price. Part 1 of A King's Head.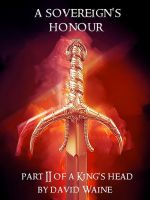 A Sovereign's Honour
Callin is king, a national hero, and betrothed to the beautiful Xunin. His unholy pact with the Hag comes back to haunt him as Avalind (in the company of her faithful Cabral) returns, seemingly from the dead, to confront him. Her arrival splits the nation and sets in train an series of events that will lead inevitably to civil war. Part 2 of A King's Head.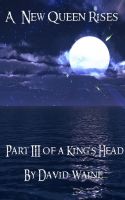 A New Queen Rises
Avalind and Cabral have been washed out to sea by a monstrous wave and the Hag has been destroyed. Or has she? In Draal, the new king, Kurian, faces the sternest test of his sovereignty yet as a massive insurrection bears down on Zinal. Meanwhile in the Kingdom, a murderous new queen rises, but who is she? 'A New Queen Rises' is the concluding part of the 'King's Head' Trilogy.