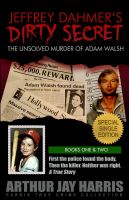 The Unsolved "Murder" of Adam Walsh - Special Single Edition
(5.00 from 1 review)
(Also titled JEFFREY DAHMER'S DIRTY SECRET: THE UNSOLVED MURDER OF ADAM WALSH) This Special Single Edition is a condensed version of the two-book series: BOOK ONE: Finding the Killer. Did Jeffrey Dahmer kidnap Adam Walsh? The cover-up behind the crime that launched "America's Most Wanted" BOOK TWO: Finding the Victim. The body identified as Adam Walsh is not him. Is Adam still alive?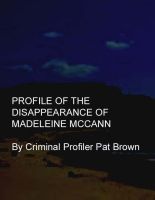 Profile of the Disappearance of Madeleine McCann
(4.83 from 6 reviews)
What really happened to Madeleine Beth McCann in Praia da Luz, Portugal in 2007? Was she abducted as the Gerry and Kate have claimed or did something happen to Madeleine on May 3 in the vacation apartment and the incident covered up? Criminal Profiler Pat Brown analyzes the evidence and takes the readers through the steps of profiling, developing a theory that is intriguing and controversial.