Sophie, Rice and Fish
by

Mark Hill
Stuck in a job he hates, madly smitten with a woman two decades his junior, racing helplessly into middle age and living in a world where vodka and orange juice is considered breakfast food, Mark Hill quits his job and moves to a small town in Southern Portugal. To see photographs of the people and places mentioned in "Sophie, Rice and Fish" visit http://www.sophiericeandfish.weebly.com.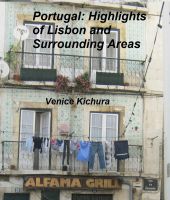 Portugal: Highlights of Lisbon and Surrounding Areas
by

Venice Kichura
Lisbon is a city full of treasures and is a must-see for the serious traveler. Walk the cobblestone, narrow streets of the old Alfama District, see the tombs of Vasco da Gama and other notables. Tour the Jerome Monastery and admire the Queluz Palace. Besides highlighting the popular tourist sites, this article contains many photos, traveling tips and unique facts about Portugal.