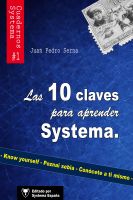 Las 10 claves para aprender Systema
Una visita guiada a la filosofía de aprendizaje del arte marcial ruso Systema, que pone de relieve las actitudes que limitan el aprendizaje, y aporta material para la reflexión personal. Aunque está dirigido a la comunidad de Systema, su contenido resultará también de interés para practicantes de otras artes marciales y para cualquiera que inicie el aprendizaje de algo nuevo.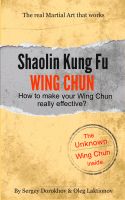 Shaolin Kung Fu Wing Chun
Have you ever wondered how Wing Chun works in real combat? How does it rate when up against the other martial arts? Would you like to take your Wing Chun to the next level, to a higher plane? If you answered "yes" to any one of these questions, then this is the book for you. As an added bonus, video demonstrations are also available at the website for the book: http://shaolinkungfuwingchun.com.